There was a four-hour strike today by NHS workers in the UK. These are the people who care for the sick, perform often back-breaking work in hospitals, bring babies into the world safely, respond to 999 calls, save lives every day in emergency wards, visit the homes of the elderly to see they are OK! The government has pushed them to the edge with its rejection of even the paltry board-recommended 1% pay increase. And this while MP's complacently grant themselves 11%!

It's not only the pay; over recent years the NHS has been drastically underfunded while at the same time millions have being funneled to private corporations whose prime interest is profits for shareholders, not patient care. This is barbaric! The state of mind impelling this is described to a t by Eli Siegel: "The greatest danger or temptation of man is to get a false importance or glory from the lessening of things not himself; which lessening is Contempt." Contempt, I've learned from Aesthetic Realism, is the basis of profit economics. Contempt is what has a person decimate vital services, endangering the lives of millions of people, so that they and their wealthy families and friends can profit financially -- all the while calling it "efficiency," "cost-cutting," "modernization" and the like.
Meanwhile, all over the country groups have sprung up representing regions, counties, cities, and individual hospitals and clinics, galvanizing support for the NHS. Marches organized by the Darlo Mums and others have shown and added to the love that Britons have for the NHS. They represent what Aesthetic Realism has shown is the force of ethics working in people and reality.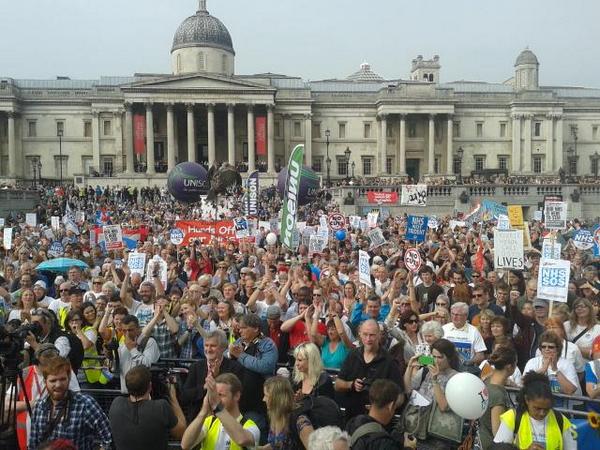 In the lectures he gave in 1970 and later, scholarly, passionate analyses of economics and people's lives, (with evidence from history, literature, current events, and much more) Eli Siegel said this, which I love: "Ethics is a force like electricity, steam, the atom -- and will have its way."
There are many moving, passionate tributes to the NHS on Youtube, such as this one of a flash choir singing thanks to the NHS.
Dismantling the NHS is a crime, a return to the Dark Ages, and people will suffer and die so that a few others can reap profits from their need for health care. I've lived with for-profit health care for over thirty years and I wouldn't wish it on anyone. It is not civilized. AND it is not good enough for people, for what people are and deserve. Eli Siegel said "There will be no economic recovery until economics itself, the making of money, the having of jobs, becomes ethical; is based on good will rather than on the ill will which has been predominant for centuries." (Reprinted in "The Right of Aesthetic Realism to Be Known" #1519, "Self, Ethics, and Oil")
This is the start of an article I wrote some years ago about why I am so grateful to the NHS, and why there is such a grassroots, unquenchable objection for-profit health care:
"In early March I got the call every child of an elderly parent dreads: My mother, Kathy Balchin, age 80, had fallen, breaking her left wrist and right leg. Coming home was out of the question. She needed hospitalization, nursing home care, then physical therapy. She was in a state of shock...."
Read more at the Aesthetic Realism Online Library.